About CIRC²LE Fellowship
CIRC²LE Fellowship is an educational program for young medical doctors who seek to become independent clinical researchers. A highly pragmatic program, this Fellowship was established as a pioneer of this field in Japan.
The most important aspect of this program is protected time for learning and drilling. For this purpose, the participants will be employed as paid assistants (Clinical Research Fellow, "Fellow" hereafter) by Fukushima Medical School CIRC²LE. This will ensure the participants free time and steady income highly necessary to concentrate on their study and training. Using their "protected time", the fellows will focus their mind and energy on systematic learning of clinical research literacy and acquisition of clinical research competency. Fellows will have mentors from the faculty members of CIRC²LE, Kyoto University Department of Healthcare Epidemiology, and Professors from overseas. Younger faculties and senior fellows will also advise the junior fellows for better and multilayered mentoring.
The second important aspect of this program is that the fellows will continue to carry on their work as doctors and advisors of residents while they study clinical research. By doing so, they will continue to have the sense of being in touch with the real world. This fellowship program is supported by Fukushima government to attract good clinicians nationwide to Fukushima. Fellows are required to support the works at affiliated facilities (local clinics or medical institutions) of Fukushima for a limited time on weekly basis, but no overtime work is necessary since the work is on rotating shifts.
Ample Protected Time for Learning and Research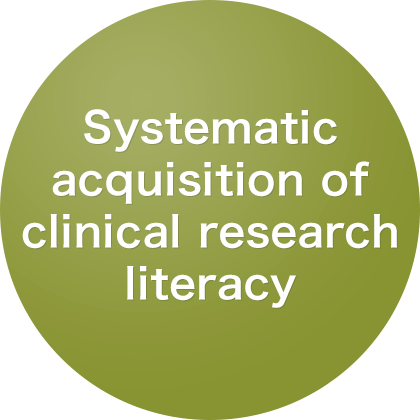 Help Fukushima with your "heart" and "skills"
Support healthcare and residents
Carry out clinical research directly relevant to healthcare
Your research outcomes can change healthcare
What are "fellowship affiliated institutions"?
Fellowship affiliated institutions are the clinics and hospitals where the fellows work to support their healthcare. Fellows will not just provide clinical support, but will have access to the data accumulated by those institutions, enabling them to design and carry out research which has potential to improve the quality of healthcare or change policies of the local area. The affiliated institutions will provide data for this purpose and also cooperate in structuring of the database.
Degrees
Participants who seek to earn degrees may work on this fellowship program as working adult graduate school students. Following graduate programs are currently offered.
1. Doctorate (Medicine) program (4 years)
For those who seek to apply for Doctoral degree (Medicine) (Ph.D). Fukushima Medical University doctorate course approves working adult graduate school program, opening possibility for earning a Ph.D degree in minimum 3 years provided that your paper is published in a peer reviewed international journal of a certain level. Admission to Fukushima Medical University Graduate School is required for registration to this program (http://www.fmu.ac.jp/).
2. MPH program (2 years)
For those who seek to apply for the Master of Public Health(MPH) degree. MPH is an internationally recognized academic degree in the field of social medicine and public health, which will be useful when seeking jobs at international organizations such as WHO.
3. Doctorate (Public Health) program (3 years)
For those who seeks to apply for the Doctoral degree of social medicine, public health (Doctor of Public Health) (DrPH).
* Students of the program 2 or program 3 are required to be admitted to Japanese Graduate Schools offering working adult graduate programs.
CIRC²LE Fellowship:prerequisite qualifications for applications and years of training
Clinical research fellows will be employed as paid assistants or research associate of Fukushima Medical University. Salary for weekly work at clinical institutions will also be paid separately. Fellowship openings are available on irregular basis (1st phase will start from October, 2013).
Eligible applicants

Doctors with more than 2 years clinical experience (those who have completed 1st phase or 2nd phase residency are preferred).
Applicants from any Department are eligible.

Position

Assistant or research associate of Fukushima Medical University (full time, paid).
Separate payment provided from medical institutions for clinical work.

Years of Training

3 years (flexible and negotiable)

Period of application

Several openings are available on irregular bases.

Contact

CIRC²LE:info@fuji-future.jp
Typical Example of Clinical Research Fellowship program